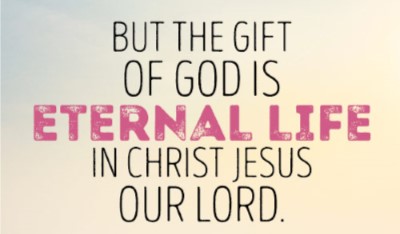 Message
A Gift of Repayment?
Thanksgiving to our Creator
Romans 11:33-36
November 26, 2017
Introduction
When we think of Thanksgiving, our minds often go the big thanksgiving meal of turkey, dressing, mashed potatoes, pumpkin pie, or some other traditional foods that you enjoy consuming with family and friends. Right?
Or it could be that if you are a football fan, that Thanksgiving brings thoughts of the big game between your favorite football team and their rival as fans scream at the television set about the stupid plays they made, the amazing long runs down the field to the goal, or even the blind referee's calls.
For many in our world, Thanksgiving means several days of shopping, some even beginning on the day of Thanksgiving. Going out to battle the crowds, to save a dollar or two on that really special gift we want to get, either for ourselves or someone else.
Thanksgiving may bring to mind memories of family. Those Thanksgivings when many of the relatives get together . . . you know . . . the ones that you have not seen all year which results in many hours of conversation catching up on the many things that have happened and laughter about the ridiculous things that have occurred over the year.
Food, Football, Shopping, Family. Thanksgiving has so much tradition for many that the idea of giving thanks gets lost in the shuffle. Thanksgiving is not just a day of food, family, shopping, and football. It's not just a holiday that we get to be off from work. Don't get me wrong, it is not that I am saying it is wrong to have some of those thoughts in our mind about Thanksgiving. But Thanksgiving should be such a distinctive holiday to us that the overriding thought that comes to mind is about giving thanks.
This is one of the few holidays we have that doesn't commemorate a battle, a birthday, or some kind of national recognition. Though I would disagree, for many people, Thanksgiving is not even a religious holiday. If we take the word for what it means, Thanksgiving is about exactly what its name implies, giving thanks. But it seems to me that Thanksgiving has become more about us, what we enjoy, or what entertains us, than about giving thanks.
The idea of a day of Thanksgiving in its inception was simply to set aside a day to express thanks to God. In 1789, George Washington made a public proclamation saying that, "it is the duty of all nations to acknowledge the providence of Almighty God, to obey His will, to be grateful for His benefits, and humbly to implore His protection and favor." George Washington declared Thursday, the 26th day of November 1789 to be a day of Thanksgiving.
But it didn't begin there did it? Though there are many who want to discredit the Pilgrims and rewrite history to mean something totally different, we know that in 1621, these newcomers to the "New World" had a Thanksgiving feast with the natives of the area. They clearly were thankful to God and to these natives for provision and survival.
But setting apart time to give thanks to God did not begin on the shores of this "New World" either. Scripture records many times over the past centuries when people give thanks to God for all He does for them. I would encourage you to read Psalm 100. Not only does this Psalm call us to praise God with thankfulness, but it also describes the very nature of thanks giving. It should be done with exuberant joy, serving with gladness, and with a heart of profound gratitude. Why? Because our God is so good to us, He extends mercy, and His truth is enduring.
You see, despite all the rhetoric that Thanksgiving is a secular holiday, Thanksgiving is truly about God, not about all these other things that come to mind when we think about Thanksgiving. It seems to me that Thanksgiving has been stripped of its meaning and value and I would like to refocus for just a moment on what Thanksgiving should be all about. This morning I want to look at a passage that makes it clear that all we have comes from the hand of God.
I believe that most of us would agree with that statement, but at the same time, I think that we may actually believe we deserve these blessings of God or that somehow . . . in what we do in our service to Him . . . that we have paid back or given back a gift that makes us worthy of what God has given us. But what I want us to see here is that it is impossible to repay God for all He does for us.
Romans 11:33-36
33 Oh, the depth of the riches and wisdom and knowledge of God! How unsearchable are his judgments and how inscrutable his ways! 34 "For who has known the mind of the Lord, or who has been his counselor?" 35 "Or who has given a gift to him that he might be repaid?" 36 For from him and through him and to him are all things. To him be glory forever. Amen.
What we have here is a description of what we do not know about God from what we know about God. In other words, what God has revealed to us makes it clear that we cannot fully comprehend the wonder of our God in what we do not know about Him. This passage begins with the magnificent richness of God's wisdom and knowledge or:
The Profundity of God (v. 33a)
Oh, the depth of the riches and wisdom and knowledge of God!
Verse 33 begins with the exclamation "Oh." Paul begins with this interjection that is supposed to cause an emotional reaction of great awe. "Oh, the depth." Then this word "depth" builds on that exclamation further pointing to something of great awe. We are to understand that what he is about to say about God should bring every single one of us into such wonder and amazement of the profundity of God. Profundity simply means great insight, depth of wisdom and knowledge that God has. "Oh, the depth."
"Depth" means a distance below the surface of something. When we hear the word "depth" we might think of a body of water that is deep, like the depths of the sea. You could use the word "depth" to refer to the depths of the earth or the depths of deep space. But when "depth" is used of God, it is used in an attempt to explain the inexhaustibility of God. In fact, I Corinthians 2:10 refers to things that are unknown to us but revealed by His Spirit as the "depths of God." Something so deep we cannot understand it.
Verse 33 in our text, refers to three things about God that are profoundly deep. God's riches, God's wisdom, and God's knowledge. "Riches" refers to material wealth. Certainly, as the Creator of all things, as verse 36 reminds us, God owns all things and can to what He chooses with His creation.
Psalm 50:10-11
10 For every beast of the forest is mine, the cattle on a thousand hills. 11 I know all the birds of the hills, and all that moves in the field is mine.
But it is not enough the God's riches are inexhaustible. God's wisdom and knowledge are also inexhaustible. These two terms, wisdom and knowledge, must go together.
"Knowledge" refers to the inexhaustible information that God possesses. God is omniscient which means He has knowledge of all things. There is nothing that God does not know about. But knowing all things is not enough, there must also be wisdom. "Wisdom" refers to the correct application of what a person knows to the way they live their life. In other words, wisdom is the ability to use knowledge for correct behavior.
I really don't know if I can adequately expound on this because of my limited knowledge, my lack of wisdom, and even my short fall of riches. How do you explain the inexhaustibility of God with thoughts that are limited by a finite mind and this finite English language we use? Paul's exclamation of "Oh" . . . seems like a feeble attempt at trying to describe God. Yet how else can you say it. "Oh, the depth of the riches and wisdom and knowledge of God!" So, he continues to further drive home his point by exclaiming:
The Incomprehensibility of God (v. 33b-34)
How unsearchable are his judgments and how inscrutable his ways! 34 "For who has known the mind of the Lord, or who has been his counselor?"
The word "unsearchable" means that it is impossible to search it out, to fully understand, it is beyond investigation, or simply put, this is unfathomable. God's judgments are way beyond our comprehension. His purposes or decrees are beyond human understanding.
I tell you from my heart, I will never understand why God chose to make it possible for sinful human beings to be saved. God extends His mercy and grace by sending a Savior. He allows us to believe by faith and have our lives transformed. God then judges us as righteous, holy, accepted, and a part of the family of God. How unsearchable are His judgments!
Not only God's judgments are unsearchable, but the ways of God are inscrutable. The word "inscrutable" in the Greek is very similar to the word "unsearchable." "Inscrutable" means that His ways are not able to be tracked, detected, or they are unsearchable. The ways of God are incomprehensible to us. The methods God chooses to accomplish his purposes are not only unknown, but we cannot understand why He chooses to do it that way.
Then in verse 34 Paul loosely quotes from Isaiah 40:13:
For who has known the mind of the Lord, or who has been his counselor?"
Now, Paul is not saying that we can never know . . . what God wants us to know about His salvation, . . . His will for our lives, . . . or some aspects of His plan for us, but that there are things in the mind of God that we simply cannot comprehend. Even if He revealed them to us, we would somehow think we would have a better way.
Isaiah 55:8–9
For my thoughts are not your thoughts, neither are your ways my ways, declares the LORD. For as the heavens are higher than the earth, so are my ways higher than your ways and my thoughts than your thoughts.
We have a God that is not only unsearchable in His judgments, inscrutable in His ways, but God has thoughts that we can never know. Paul emphasizes this with the concept that no one can give God counsel. Think about this for a moment. Who would be able to sit down with God and say, "listen, I know a better way, I know how you should handle this situation?" It is ludicrous to even think about someone giving counsel to God. No one could be His counselor.
The profundity of God – depth of wisdom and knowledge
The incomprehensibility of God – beyond our comprehension
Then in verse 35 we have the statement of:
The Impossibility of Compensation (v. 35)
"Or who has given a gift to him that he might be repaid?"
Have you ever given much thought to this? This idea of our giving to God as a type of repayment for all that He has given to us is not necessarily as foreign to us as we may think. Why do we give of our money into an offering plate? Why do we serve the Lord in church ministry or other God ordained ministries? Why do we get into a meaningless ritual of church attendance which has no purpose other than we think that we should in order to gain favor with God? Do we give to the Lord because in our mind we repaying God for what He has done for us?
Maybe we should ask the question, can we repay God? If we could repay God, does that put God under an obligation of owing us? If we repay more than He has given us; if that is even possible? Turn to 1 Chronicles 29 for a moment.
Remember when David wanted to build the Temple in Jerusalem and God wouldn't allow it? God told David that it would be built by his son Solomon? The Temple was so upon David's heart that he did all that he could in preparing Solomon for the building of the Temple. He made the plans and accumulated materials, David even gave from his own treasury a vast amount of wealth of gold and silver. He encouraged the people to give of their wealth for this Temple to be built.
In the first part of the 1 Chronicles 29 we find a listing of all the gold, silver, bronze, iron, and precious stones that were given for the Temple. The amount of wealth given for the Temple was staggering. If one can imagine repaying God, maybe this would be something that would close. But then David prays a prayer to God before the assembly of the people that puts all of this giving to God in a proper perspective. Listen to part of that prayer:
1 Chronicles 29:11-14
11 Yours, O LORD, is the greatness and the power and the glory and the victory and the majesty, for all that is in the heavens and in the earth is yours. Yours is the kingdom, O LORD, and you are exalted as head above all.
12 Both riches and honor come from you, and you rule over all. In your hand are power and might, and in your hand it is to make great and to give strength to all.
13 And now we thank you, our God, and praise your glorious name.
14 "But who am I, and what is my people, that we should be able thus to offer willingly? For all things come from you, and of your own have we given you.
You see, we have nothing of our own, everything is God's. When we give to God we are giving what He has given us. How on earth can we give something to God in repayment with something He has given us? It is impossible to compensate God for what He has given us and done for us.
Yes, we do give of ourselves and of our wealth, but it can never be thought of as paying God back or that somehow God owes us! Listen to what God said to Job as God challenges Job about his right to have anything in this world. Job 41:11
11 Who has first given to me, that I should repay him? Whatever is under the whole heaven is mine.
God owes us nothing, and yet, He gives us so much. Instead of boasting about what we give or do for God, maybe we need to evaluate why we have anything at all.
1 Corinthians 4:7b
What do you have that you did not receive? If then you received it, why do you boast as if you did not receive it?
We need to focus on the source of all that we have, give praise and thanks to the one true Giver, God the Father.
James 1:17
16 Do not be deceived, my beloved brothers.
17 Every good gift and every perfect gift is from above, coming down from the Father of lights, with whom there is no variation or shadow due to change.
The profundity of God – depth of wisdom and knowledge
The incomprehensibility of God – beyond our comprehension
The impossibility of compensation – cannot repay God
The Charitability of God (v. 36)
For from him and through him and to him are all things. To him be glory forever. Amen.
What a powerful way to end this paragraph of praise to God. The totality of all that exists comes from God. God is the source of all things that exist. They come from Him. All things come through His gracious hand to all who receive what He has given. All things come through Him. And the goal of all things is that they be given to Him. "From Him and through Him and to Him are all things."
Do we truly understand that? The planet we live on, the air that we breathe, the food that we eat, the water we drink, the houses we live in, the cars we drive around, the health we have, the children we bore, and a million more things are "from Him and through Him and to Him."
Why has God give us all things? That all glory be to Him, not so we can boast of anything we have done. "To Him be glory forever." Do you see what is going on here? Our praise, our thanks, our adoration, our love, our lives, our wealth, our everything should be for His glory. Our lives should put God on display in such a magnificent way that everyone around us sees the glory of God.
Conclusion
My prayer is that you will never see Thanksgiving as something apart from God. Thanksgiving is not about the big meal, the football games, the malls, or even the family get togethers. Though there is nothing wrong with any of those things, Thanksgiving should be about God.
The profundity of God – depth of wisdom and knowledge
The incomprehensibility of God – beyond our comprehension
The impossibility of compensation – cannot repay God
The charitability of God – you cannot out give God